Benefiting Lincoln Memorial University Through Your Will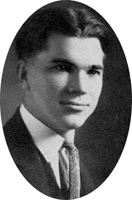 When Dr. Lon and Elizabeth Parr Reed passed away (in 1980 and 2003 respectively), their plans for giving to Lincoln Memorial University continued to reflect their special love for this institution. They found giving through their will to be a convenient way not only to distribute their estate, but also to ensure that their instructions were followed precisely according to their wishes. Their gifts to Lincoln Memorial University have had a tremendous impact on the University's strategic plan to build a new science facility.
Dr. Reed was born in Sneedville, Tennessee, son of the late Henry S. and Sara Morgan Reed. Coming from a family of staunch pioneers, Lon Reed and his father rode mules to LMU from Sneedville in order for Lon to attend LMU. He graduated cum laude from LMU in 1926 and then graduated from the University of Tennessee Medical School in 1935 and served his internship with the U. S. Naval Hospital in New York. Mrs. Reed was from Collierville, Tennessee, and completed a nursing program at the UT Medical School in Memphis, Tennessee, where she met Dr. Reed. Mrs. Reed's father, a dentist, had a friend in Hot Springs, Arkansas, who needed a young doctor to help him in his medical practice. They went to Hot Springs, Arkansas, and began a general practice which was to span a period of 40 years. They led a life of devotion, dedication and sacrifice which never wavered.
Their generous gift of over $1 million will continue a legacy of commitment to the Appalachian region that will long be remembered. The Reeds ensured through efficient estate planning that the work they began in life would continue through others who came after them. Their legacy of service will go on in the work and the achievements of the students who will benefit from their bequest to LMU, and their example will surely be followed by those they chose to help.
You too can make a difference in the lives of others, and Lincoln Memorial University is a good place to ensure that impact benefits the greatest number of people. Steadfast to the mission, LMU has faithfully served its constituents for more than a century; and so much has been done, thanks to the kindness of people like Lon and Elizabeth Reed. There is much more to do. Won't you consider making Lincoln Memorial University a part of your estate plans through you will?
You also may want to make it easy and convenient to have a bequest included in your will. The language below shows how a bequest can very easily be included in your will.
You might find it helpful to select the "print" button on the top of your screen and print this page. Please feel free to give this information to your attorney. If he or she has any questions, please have him or her contact Cynthia L. Whitt at phone number 423-869-6394 or email us at
cynthia.whitt@lmunet.edu
.