Guiding Lincoln Memorial University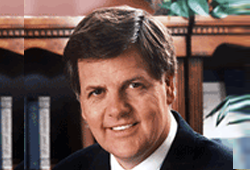 When considering my estate plan for Lincoln Memorial University, I wanted my plan to reflect the unique place LMU holds in my life. I treasure my roles at the University, and I value the work I do not only as the chairman of the Board of Trustees, but also as a graduate. I received a valuable education and valuable life experiences, and anything I can do to repay LMU for that is important.
As President Moody and I look to the future of LMU, our primary challenges will be to strengthen financial planning, budgeting and assessment; strengthen our comprehensie student enrollment management process; improve academic quality; expand and maximize use of technology and facilities; and enhance external resources. We will need your support to make these challenges a reality.
In this fast-paced, global society in which we live, it is our desire at Lincoln Memorial University to guide you in making the most thoughtful and beneficial estate plan possible. Knowing where to begin and what to expect can aid in turning a challenging task into a very effective plan.
I encourage you to contact the Division of University Advancement and allow them to provide you with data that can aid you in estate planning that suits your needs. If you are reviewing your plan for the first time or reviewing a plan you already have in place, this office can provide you with valuable information.
My estate plan for LMU will aid in ensuring that this institution will be viable for the next 100 years. I ask you to join with me by making your estate plan today.
-- O. V. (Pete) DeBusk
You also may want to make it easy and convenient to have a bequest included in your will. The language below shows how a bequest can very easily be included in your will.
You might find it helpful to select the "print" button on the top of your screen and print this page. Please feel free to give this information to your attorney. If he or she has any questions, please have him or her contact Cynthia L. Whitt at phone number 423-869-6394 or email us at
cynthia.whitt@lmunet.edu
.