In Memory of a Special Friend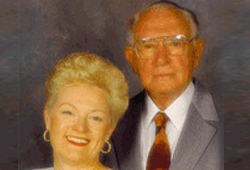 Dr. Morris Wiener, long-time friend of Lincoln Memorial University and The Abraham Lincoln Library and Museum, passed away February 23, 2004, in Ft. Lauderdale, Florida, at the age of 99. Dr. Wiener was a great humanitarian and philanthropist whose passing marked the loss of a great man who touched countless lives. He left behind a wife of 32 years, Maria; a sister, Sadie; a brother, Kenneth; nieces and nephews, Candy, Irene and Lewis and wife Marty; Matthew and Debbie; great nephews and nieces; great grandnephews and nieces; and a host of other friends and relatives.
Dr. Wiener lived a life filled with a wide variety of interests and unique hallmarks to the outstanding man that he was. During World War II, he served as a physician in the Army, was selected to serve at the Nuremberg War Crimes Trial and helped with the building of the Alaskan Highway. He was a Lieutenant Colonel in the Reserves for 20 years. Always looking for a way to serve mankind, Dr. Wiener worked as a volunteer doctor on the hospital ship "Hope," and served as a medical volunteer in remote areas of the globe. He also served as a pathologist at Syosset Hospital and at Manhasset Hospital in Long Island, was medical director of the Syosset Hospital and served on the New York State Board of Regents, ruling on medical ethics issues for physicians.
Always utilizing his creative intellect, Dr. Wiener undertook many hobbies and unique recreations, including taking a computer course at the age of 90. He loved to debate politics, discuss current events, quote Shakespeare and read poetry. He was an accomplished violinist, a scholar, a writer, an historian and a philosopher, and anyone who encountered him left him a better person. He remained vital and active his entire life, and he was an active advocate for education, assisting scores of young people with educational expenses.
At his memorial service, Rabbi Bernhard Presler pronounced, "May the memory of Morris Wiener be a source of strength and comfort in time to come to all those who have sustained this loss. May he be remembered by all those who were privileged to know him. May his memory be for a blessing in time to come."
Dr. Morris Wiener and his wife Maria made provisions for The Abraham Lincoln Library and Museum to ensure that the principles and ideals of Abraham Lincoln will be preserved. The memory of Dr. Wiener will live in the hearts of those who knew him and all of those who will benefit from his generosity.
You also may want to make it easy and convenient to have a bequest included in your will. The language below shows how a bequest can very easily be included in your will.
You might find it helpful to select the "print" button on the top of your screen and print this page. Please feel free to give this information to your attorney. If he or she has any questions, please have him or her contact Cynthia L. Whitt at phone number 423-869-6394 or email us at
cynthia.whitt@lmunet.edu
.